For the past three years, I have had the immense good fortune to indulge in my heart's desire - and be paid for it! The
Philosophy for Teens course
was launched in 2008 as a trial options course at my school. The initial registration of only eight students quickly rose to eighteen enabling me to run the course. (As a private high school, our students benefit from our very small class sizes - 21 students!) The first year was intense and oh so very satisfying. We created memories and bonds that many alumni still talk about. After this initial experience, I wondered if a repeat performance would be possible with the next group in 2009. I felt like a woman about to birth her second child. How can any love match what we feel for the first child? (Actually, I have only one child so I'm really imagining on this score!)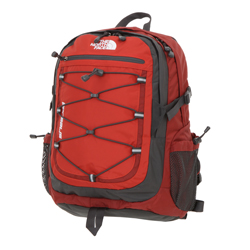 Read the footnote to learn about the story of the red rucksack
That following year's cohort was simply amazing! They were eager, funny, insecure at first, bold and daring afterwards and they loved to challenge me! They took immense pride in presenting their work and their projects provoked misty eyes and standing ovations by the class. Many of the conversations in class continued beyond the bricks of mortar of the school as they blogged, used the class wiki and followed one another (and me) on Twitter. Some of them even skyped into the class from a vacation spot in Florida!
Last year's class was also very special in their own way. They were willing guinea pigs and tried out new ways to communicate, collaborate and produce work together. My most special moment is the debate they prepared using Diigo and Google docs.
Towards the end of the course, I asked them how they felt about going public. I told them about
David Truss
' surprise when he realized the global traffic that their grade 8 science wiki was getting. I expressed my desire to share our wiki with the world as well as some of my concerns. They looked back at me with that 'look' that only a teenager can master; "What's the big deal? Whatever." To them, it was a non issue and so I decided that I would offer this wiki to the world.
To say that I am proud of my students is an understatement. I showcase their work from other social
science courses here
but this is my special offering today:
Philosophy for Teens
. This is the wiki that houses our work. This is our living book. I think of it as a cake with layers, each one revealing the flavour of our conversations and work from that particular year. Unfortunately, some of their wonderful words are hidden because only the last year's students gave permission. The students from 2008 and 2009 are alumni and it would be time consuming to track them down.
I hope that this wiki is useful for teachers and encourage them to ask the big questions with their students. I especially hope that some teenagers will find this wiki interesting and might want to join it. One thing is certain; the students who take this course beginning in January of 2012 will give another flavour to this living book that we are writing together.
* One day I sauntered into class sporting my red rucksack. I ignored their stares and began to speak about beliefs, how they are formed, why they are so hard to change, how some limiting and others liberating. For maximum drama, I slowly removed the rucksack, untied the strings and began to examine its "contents"; objects that symbolized our most cherished beliefs about ourself and the world. I had no idea how powerful that lesson was for them. (They still talk about the red rucksack!) That is why we adopted the red rucksack as the symbol for homepage of this wiki.)